Mail Link Plus Online Account Management
Manage your mailbox online with Mail Link Plus Online Account Manager. With Mail Link Plus, you can see exactly what's in your mailbox. Every day, we will sort through your mail, record details about each piece of mail into our database, and email notification of the new mail in the box.
WE NOW OFFER SCANNING OF MAIL FOR YOUR TIME-SENSITIVE NEEDS.
» SEE HOW IT WORKS HERE... «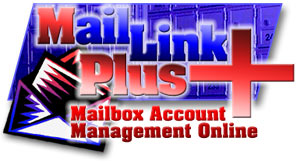 ---
All you have to do is log in to your account to view your mailbox.
Prestigious Street Address (Rainbow Blvd.)
No PMB designation, simply use the # sign and your mailbox number.
Tax-Free Nevada.
Receive Parcels from any Carrier (UPS, FedEx, DHL, Airborne Express)
View mailbox contents from your laptop or mobile.
Mail Forwarding wherever you are.
This week, next week, once a month, or when you request it.
Add money to your account online.
Mail Forwarding
We charge $2 per time for mail forwarding, no matter how many items, plus actual USPS postage. Some of our competitors have hidden fees in the postage, charge you for forwarding whether you have mail or not, or charge you to check your mail. We always charge actual postage + $2.00 and if you don't have mail, wish to skip a forwarding, or want us to toss the junk mail, we won't charge you. We also offer the Priority Mail Flat Rate Envelope for forwarding. This envelope can hold up to 35 first-class letters and costs only $4.90 + $2.00 for handling.
We also ship via UPS or FedEx on our account or your account. For rates to your location call for a quote.
Postal
1 oz.
2 oz.
3 oz.
4 oz.
5 oz.
6 oz.
7 oz.
8 oz.
9 oz.
10 oz.
11 oz.
12 oz.
13 oz.
---
View Mail Details
When you log in, you will see a list of the contents of your mailbox. Each item will show who sent it, what type of mail it is (1st class letter, magazine, postcard, or package), when it arrived, and any other details that may be important to you. The advantages of Mail Link Plus don't stop there.

---
Keep It ! Ship It ! or Trash It !
With each item, you can determine how to process it.
Leave Inbox :Not a huge priority to see the item. Just leave it in the mailbox.
Throw Away :Not interested in junk mail? Not a problem. Click on Throw Away and we will toss that item in the trash. This will save you money by not having unnecessary mail shipped to you.
Next Shipment :Click on this choice when you are getting ready to request a bulk mail shipment to your address. When you click on "Request New Shipment", all items in the list with "Next Shipment" selected will be shipped.

---
Request New Shipment.
All items you want to send will be listed along with the total weight of the items you will receive. You only need to confirm the address to which your shipment should be sent. If you are not at your preset shipping location, you can change it to the location you may be visiting without affecting your default information. We will ship your mail to you the following day. An email will be sent to you, containing the shipping information (shipping company, tracking number, and expected arrival date), as well as your current account balance.

---
View Past Shipments.
At any time, you can view your past shipments. The list shows you the date when the shipment was sent, as well as details about each item in the shipment.
---
Update Your Account Settings
Whenever you need, you can make changes to your default shipping address, email address, and more. You can even set regular intervals for automatic shipping of your mailbox contents, as well as request automatic "trashing" of your junk mail. You may also add money to your account online or pay the rental with your credit card online.
---
Why go with anyone else?
Do it all with Mail Link Plus Online Account Manager - Mail Forwarding Made Easy.