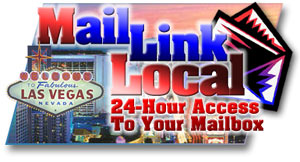 Mailbox Rentals **
SMALL
MEDIUM
LARGE
3 Months
$30
$36
$45
6 Months
$50
$66
$78
Full Year
$100
$132
$156
** 3-month minimum on startup
*** Mail forwarding costs $2 plus postage each time.
Actual USPS postage with no markup.
Local Mailbox Rental
If you live in or near Las Vegas, or are a frequent visitor, Maillink Local Mailbox Rental is for you.
Prestigious Street Address
(Rainbow Blvd.) VIEW MAP
No PMB designation, simply use
the # sign and your mailbox number.
Tax-Free Nevada
Receive Parcels from
any Carrier (UPS,Fed Ex, DHL,
Airborne Express)
Convenient Location, just a 15 minute drive from the Las Vegas Strip, and 20 minutes from McCarran International Airport.
Optional 24-hour Service*. Access your mailbox anytime, night or day, and even on the weekends.
Safe and Secure - 24-hour Surveilance.
No Hassle. In and out with no delay.
Shipping and Packing Service for when you need to send out large packages.
Local In-Store Services
Notary Public
Packing Service
Copies
Fax Service
Mail Forwarding
Nevada Legal Forms
UPS
FedEx
Money Orders
Western Union
Laminating
Keys
Greeting Cards
We offer many services to our local customers, as well as visitors to Las Vegas. We are your one-stop store for all your needs.

For any questions, or to request services, please call us
Toll Free at: (888) 267-1109.